SWC has resumed in-person dining Monday, Wednesday and Fridays. All persons attending must be FULLY VACCINATED for COVID-19. Record of vaccination is required. All persons will be required to fill out a health checklist and sign a COVID-19 waiver of liability.  At this time, masks will be optional when community risk is in low as determined by the CDC. Masking will be required when the CDC community risk level is medium or higher as determined by the CDC.
When Community Risk is listed as "High" as determined by the CDC – SWC will requires a NEGATIVE COVID rapid test, taken that day, to attend each in-person dinner/program. To verify the current community spread level please refer to the SWC weekly email or call the SWC office directly.
How long these guidelines remain in place is subject to review based on changing conditions. Visit our Covid updates page for the latest info.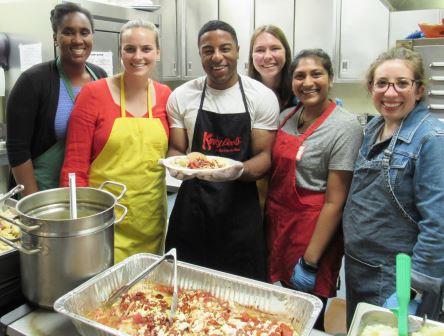 Since 1987 the hallmark of Shepherd Wellness Community has been our Wellness Dinners that are open to people living with HIV/AIDS and their loved ones. Our dinners are a gateway enabling persons to connect with care at other service organizations, medical providers and social services.
SWC Wellness Dinners are often the first place a person will come to seek care after a positive HIV diagnosis or when symptoms of AIDS develop. Individuals come from the Pittsburgh metropolitan area and 11 counties of southwestern PA. Rural members, who may not want to have their HIV status disclosed in their local community, often schedule medical care in Pittsburgh at times when they can participate in our Wellness Dinners.
Members who experience loneliness and isolation find a safe and supportive community at our Wellness Dinners, and are able to form a social support network of friends.
At our dinners, SWC staff and volunteers provide members with guidance and direction, information, encouragement and support, as well as referrals for care at other agencies.
Newcomers to our Wellness Dinners are asked to complete a "Member Application Form" and "Certify for Ryan White Eligibility" to become members of SWC. As members, they are eligible to receive personal Peer Counseling Telephone Calls and our SWC newsletter, giving them immediate and personal connection to care, support and community resources.
We partner with more than 250 volunteers every year from community groups, churches, synagogues and businesses to help prepare and serve meals. This hands-on involvement helps educate the community about HIV/AIDS issues and offers a tangible way to be involved in serving those affected. Volunteers receive training in safe food preparation and handling.
Nutritious meals include appetizers, beverages, entrees, side dishes and desserts. We also prepare take-home meals to help our members supplement their nutritional requirements throughout the week.
All of our Wellness dinners are held in our Community Center in Bloomfield.
For information about upcoming Wellness Dinners, click here.
If you would like information about volunteering at one of our Wellness Dinners, click here.
If you would like to sponsor a Friday night meal, please click here for information.
There is no meal charge for SWC-certified members, their children under 18, or for the first loved one accompanying a certified member.
Additional loved ones accompany a certified member pay a meal charge of only $10. Noncertified HIV+ people pay a meal charge of only $10 (after their first visit).
There is no charge for programs at our center for our HIV+ members and their loved ones.
Loved ones may attend most of our programs, however, there is no change to our policy that HIV support groups are open only to HIV+ people. Some programs have adult-only content, and guests attending our outings are welcome on a self-pay basis.