Shepherd Wellness Community has updated its Covid 19 policies, procedures, mitigation efforts and safety protocols. These updates have been made based on current County, State, and Federal public health guidelines. Effective immediately we will no longer require proof of vaccination to attend SWC events.  Masking will remain optional. If community risk levels move to medium or higher we will once again require masking except when eating or drinking.
We STRONGLY ENCOURAGE Covid Vaccination and Boosters for anyone eligible for them.
If you have a confirmed positive test after attending SWC, please contact us immediately: 412 683 4477 or [email protected].
IF YOU DO NOT FEEL WELL, PLEASE DO NOT COME TO AN IN-PERSON DINNER OR PROGRAM.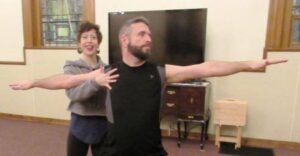 A variety of fitness and alternative therapy programs help promote physical and emotional well-being and relieve fatigue and stress. Programs are scheduled for weeknights at our Center throughout the year.
Programs have included strength training, Zumba, art therapy, exercise classes, Tai chi, ballroom dance, meditation, foot spa, yoga, and Pa Tuan Chin.
Please check our calendar for scheduled fitness and alternative therapy programs.
There is no meal charge for SWC-certified members, their children under 18, or for the first loved one accompanying a certified member.
Additional loved ones accompany a certified member pay a meal charge of only $10. Noncertified HIV+ people pay a meal charge of only $10 (after their first visit).
There is no charge for programs at our center for our HIV+ members and their loved ones.
Loved ones may attend most of our programs, however, there is no change to our policy that HIV support groups are open only to HIV+ people. Some programs have adult-only content, and guests attending our outings are welcome on a self-pay basis.